Steven Spielberg
Call him 'The Beard I'
No other text on this site has been a work in progress for this long. Back in August 2002, the original pages of the first edition of
The Posts
(News, Films, Music & Heroes) all had an 'About Steven Spielberg' button. The template stayed, the 'Spielberg' article never came to fruition.
I kept pushing it back, because I didn't want to rush it. When - and if - I were to write an article about this biggie, I had to do it properly.
Just three weeks ago, Belgian TV-channel
JIM
aired a reality series called
Climbing Spielberg
. The title is a pun on the name
Spielberg
, which means "PlayMountain" in German. Hence the climbing! In the show, three young Belgian directors attempt to interview Steven Spielberg ... and eventually succeed. I've never seen an episode of the program, for I was in Sweden at the time.
Suffice to say I envy the trio. During 45 minutes, they could ask him all the questions they wanted to ask. Truth to be told, they were only granted 5 minutes - but 'The Berg' had such a good time, he extended the chat.
I'm not sure when I first heard the name "Steven Spielberg" in my life. I'm not even sure about the first Spielberg-movie I saw, but all signs point to
The Land Before Time
. Dubbed in Dutch, of course, because I was only 5 or 6 years old. The flick, called
Platvoet En Z'n Vriendjes
[Littlefoot And His Little Pals], filled my heart with joy and love. To this day, it's still my favourite animated feature. Ahead of Disney's offerings, which - admittedly - are quite good too. Oh, and for the perfectionists out there : I know
The Land Before Time
is not directed by Spielberg.
The first Spielberg-affiliated piece of pellicule I caught on the silver screen, was
An American Tail - Fievel Goes West
, the sequel to 1986's
An American Tail
. I liked it so much, I made a drawing of it on January 1, 1992 :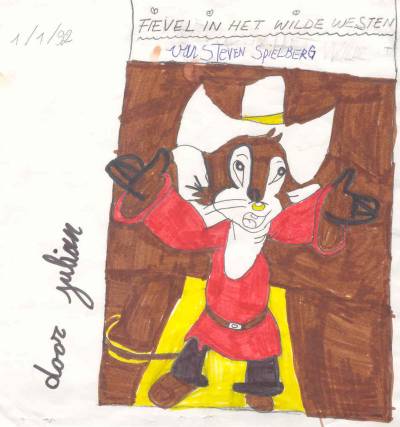 Gradually, I read/heard/found out more about the Jewish Beard. He shaped my cultural life, he influenced me. Echoes of his work are constantly present in whatever I do in my spare time. One of my first poems was an 'Ode To Spielberg' and I try to copy his look in my self-made movies.
Take into consideration, I never exaggerate! I don't watch his every move, I don't know the names of his kids (save for 'Max', which was readable quite clear in
Back To The Future II
), I'm not trying to kidnap his wife to get into contact with him.
Above all, I'm a serious lover of his movies. But even here, I'm not a full-blown connoisseur. I still have a heap of movies (with his stamp on) on my 'to see'-list. These include notable classics as
Duel
,
Sugarland Express
,
Empire Of The Sun
,
The Color Purple
,
1941
,
Schindler's List
,
Saving Private Ryan
etc.
But just take a look at my "My favourite movies of all time"-list on this website. Director-producer-actor Spielberg is featured 9 times on a total of 40 movies (roughly 25%). Keep in mind, I count both the
Back To The Future
and the
Indiana Jones
trilogy as one entry.
A lot more thoughts are bound to crop and pop up. This text doesn't do justice to his everlasting and enduring legacy, or his phenomenal persona. This is the article I've been meaning to write for the past 6 years; the very reason I started 'Julian's Posts'.
Hats off to you, Mr. Steven Spielberg. And thanks for everything.
Julian, 22 June 2008