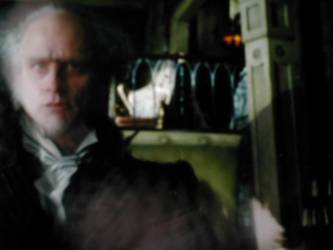 Lemony Snicket's A Series Of Unfortunate Events
The uuuultimate Christmas-movie?


I have already read three Unfortunate Events by reclusive author Lemony Snicket. Brilliant books, all three of them. A movie-adaptation could be either véry good or véry bad. Luckily for Snicket, the former (and not the latter) has happened.

Jim Carrey - who should get the "Best Actor" Academy Award this year for his role as Joel in Eternal Sunshine Of The Spotless Mind - plays Count Olaf, an unscrupulous guardian of three orphans. The Baudelaire orphans have lost both their parents in an all-destructing fire. Count Olaf turns out to be nothing more than a greedy creep, desperately trying to claim the Baudelaire-fortune. Every time the three youngsters settle in with a new guardian, Count Olaf pops up in the most stupendous disguises to fool everyone else besides the orphans.

The story, a trimmed-down montage of the first three books, is there. It's a quality story that makes you care about the poor children and makes you hate the evil Olaf. But translating a story to the silverscreen is not an easy task. Many have attempted and many have failed. Lemony Snicket himself was on board to overlook the process, though, so there's no blasphemy to be found. The sourcematerial stays intact.

Emily Browning, Liam Aikin and the Hoffman-sisters do a fantastic job. There's an iron law in the moviebusiness that says : "don't work with children or animals". This movie has both. Emily Browning is destined for greater things : she's not that expressive, but if you've read the books, you know that Violet Baudelaire is an inventor. She's often sunken in her own mind and coming up with solutions to the problems posed. Job well done for Emily (who also proved she had talent in 2002's "Ghost Ship"). Liam is a bit too cool and sassy for my taste (Klaus in the books is more the quiet bookworm), but he's totally convincing as well. The good thing is : the actors are all in place. Some movies based on books make you think : "I wish they'd picked that actor instead of this one", but every actor seems to fit in. The twins do what they have to do : be cute and bite on everything. Just as Sunny in the books.

With fabulous sets, amazing light, stunning music and castmembers who are enjoying themselves, nothing really could go wrong. That's why I can thoroughly recommend "Lemony Snicket's A Series Of Unfortunate Events". It may not be this year's best movie, but it certainly is one hell of an entertaining joyride through the wicked mind of Lemony Snicket. Entertainment for the whole family. So what are you waiting for?


Julian De Backer, 24 December 2004



To quote "Meako1973" (if that is his real name) from Sheffield, UK (on imdb.com) : "As a recent reader of the books, the tale was fresh in my mind when I went in, and I knew what I wanted to see. Although the story has been flipped about a bit, and a few tweaks made to tuck it together, the look, feel, sounds, and essential ingredients of the story are all perfect. This is a wonderfully quirky family film which should introduce a lot of people to the strangely quirky books. I only hope for the rest of the tales to follow to the big screen over the next few years."

Couldn't have said it better myself.


[update 29 May 2005]
I rented the movie yesterday. I enjoyed him even more than the first time! Really well-executed : the music is fantastic, the actors couldn't have been better, the stages are incredible ... yes, such a good movie!

I also forgot to mention in my initial review that the film contains two Belgian-references. "Groeten uit Antwerpen" is written on the back of the envelope the kids receive at the end, which translates as "Greetings from Antwerp". Plus, the same envelope was sent by "Sabena Airmail". Sabena was a Belgian flightcompany that went bankrupt in 2002. It still makes sense that the letter was sent through Sabena, because it was lost in the mail "for years". So the Baudelaire-parents presumably sent it several years ago, when Sabena was still up and running. Nice touches!